Visit by Dr. Pompeo Della Posta
Visit by Dr. Pompeo Della Posta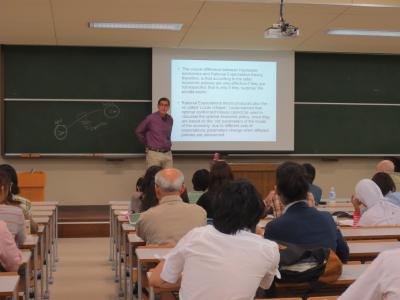 In May 2013 the Department of Economics hosted a visit by Dr. Pompeo Della Posta from the Department if Economics at our partner institution University of Pisa. The author of the 2011 book Europe and the Financial Crisis was making his first visit to Japan. He spent a week at YNU lecturing, updating us on events at University of Pisa, and discussing future collaborations with Professor Uemura and other colleagues.
Dr. Della Posta gave two talks during his time on campus. The first was entitled: "The process of monetary integration in Europe: from the fall of the Bretton Woods System to the Euro." This was a historical outline of the rationale for the Euro and the chronology of its formation. The second, complementary, talk was: "The Euro Sovereign Debt Crisis: A Critical Analysis." Dr. Della Posta reviewed the main events, discussed the central possible reasons and interpretations of the crisis in the different Euro area countries, and analyzed the salient responses given by European institutions, on the fiscal, monetary and institutional side.
Both talks were well–attended. MPE students came out in force, and there was an undergraduate presence, as the Euro-Japan Dialogue topic this year is currency-related, so the students were keen to hear testimony from an expert who is also living through the Eurozone crisis.
YNU and University of Pisa have enjoyed a fruitful exchange in recent years and Dr. Della Posta's visit adds another chapter to that success story.